Book the Singers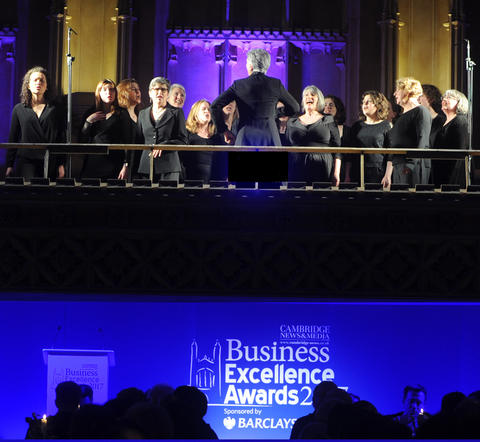 "You were collectively superb... two hours after you left the room the audience was still talking about your performance."
The Singers perform for a wide range of occasions including conferences, banquets, receptions and weddings. The choir offers a highly-varied repertoire and range of styles from which the Director creates programmes to suit the occasion.
Whether singing jazz or folk, medieval plainsong or classical, show tunes or opera, the Singers' performances are always compelling – with audiences moved both to tears and to laughter. 
Most full choir songs are sung unaccompanied. For solos and small groups the Singers may be joined by one or more of their excellent musicians on violin, double bass, lute, harp or piano.
Listen to track extracts from our CD 'Bittersweet' recorded in June 2016.
Download a flyer about the Singers, including sample repertoire.
To find out more about booking the Singers for your event please get in touch via our Contact page.
Photo: Cambridge News
What our clients say...
"The performance last night was superb. Hallelujah always sends shivers up my back, but Jerusalem WOW! Our guest speaker said it was 'absolutely sublime' and he thought the performance was outstanding in every aspect." Sheila Hutchings, Secretary EATTA

"The Lucy Cavendish Singers made our dinner in the Hall of King's College Cambridge a truly magical and unforgettable event. Their very thoughtful choice of songs was perfect for our guests and their faultless execution was as beautiful as it was moving. Booking them was an inspired decision!" Anne de Freyman, Institute for Translation and Interpreting 

"Having listened to the choir a year previously, many in the audience were anticipating excellence. However, we were overwhelmed by the harmonious performance. So many in the audience came to express their pleasure. Vox humana at its very best." Dr Jai Chitnavis, Cambridge Medical Graduates Society Dinner, Christ's College.

"Thank you so much for a wonderful performance at my wedding in King's. I would unhesitatingly recommend the Singers. Many of our guests made a point of telling us how fantastic they thought you were." Lily

"The Lucy Cavendish Singers were fabulous as always. Thank you for providing a great atmosphere for the wedding ceremony. It's always a pleasure recommending you and we hope to have you back soon." Lottie Armes, Conference and Dining Office, King's College, Cambridge

"I would have no hesitation in recommending the Lucy Cavendish Singers again." Mel Searle, Conference Office Manager, Robinson College

"As soon as I heard the Lucy Cavendish Singers strike up their first carol, I was instantly engaged by their clear projection of sound and vital rhythmic clarity. Singing from memory visibly and audibly shaped their singing into superbly projected ensemble singing. The overall sound quality was blended, yet without loss of individuality, a quality that marks them out from most other choirs in Cambridge." Ian de Massini, organist and Director of Cambridge Voices.

"My guests from Europe and Asia, and myself, were delighted by the Lucy Cavendish Singers' varied repertoire and beautiful harmonies. A very professional group." Professor JD Pickard, Head of the Division of Neurosurgery. Banquet in the Great Hall, King's College.

"The singing was excellent. It very much contributed to a successful evening." Bill Brogan, Conference and Catering Manager, St John's College

"You gave us all such a wonderful concert. I have had so many glowing reports." John Hiley, Church of St Anne, Ings, Cumbria

"The Lucy Cavendish Singers were really great and captured the spirit of Cambridge to a tee." David Hargreaves, conference delegate, Robinson College

"Many choirs have performed for us over the years … the general feeling was that you were the best we've had."  Pat Sage, conference delegate, St John's College 

"It was a privilege to have such an expert and expressive choir, so committed to being with us and creating a powerful synergy between music and the spoken word." Peter Hayler, Chaplain to University Staff, Gt St Mary's Church, Cambridge.