CD recordings
Bittersweet
Released in October 2016
With Ivan Garford (double bass), Nicky Haire (violin)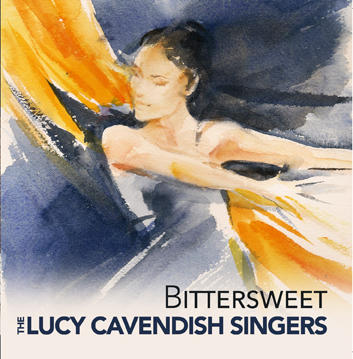 This debut album from the Lucy Cavendish Singers captures life's joys and sorrows through its unusual mingling of musical genres, a feature of the choir's vibrant live performances. Sacred and classical pieces are combined with exuberant country and piercingly sorrowful folk, to create a richly textured musical experience. With its mix of intimate small group songs, full choir numbers and instrumental items, Bittersweet builds on the highly successful programmes so popular at the Singers' live concerts.
The CD is available for purchase for £10 (plus p&p) via the link at the bottom of this page. Listen to samples from all the tracks below. A selection of full tracks is available on our YouTube channel. MP3 files can also be purchased from GingerDog Records
Bittersweet: Full track listings
1. Big Boned Gal (1989) – k.d. lang, Ben Mink
2. The Lord is my Shepherd (1996) – Javier Busto
3. Blood and Gold – Béla Bartók, Andy Irvine & Jane Cassidy
4. Noches, Noches – Traditional Sephardic
5. How should I your true love know – Traditional
6. Bogoróditse dévo – Sergei Rachmaninov
7. St Louis Blues (1914) – W.C. Handy
8. I never will marry – Traditional Irish-American / White trash Wedding (2003) Emily Robison, Martie MacGuire, Natalie Maines
9. Remember me my deir (16th C) – Scottish anon
10. Cluck Ol' Hen / Old Joe Clarke – Traditional Americian
11. Wayfaring stranger (1935) – Traditional
12. Didn't leave nobody but the baby – Traditional American, additional lyrics T-Bone Burnett
13. Ubi caritas (2001) – Eleanor Daley, Anon. 10th Century
14. Margaret's waltz (1959) – Patrick Shuldham-Shaw
Recorded in St George's Church, Chesterton, Cambridge on 11 June 2016 by GingerDog Records www.gingerdog-records.com.
Cover painting: Lesley Fotherby www.chrisbeetles.co
Buy CD now:
Pay by credit/debit card or Paypal (select UK/Europe/Worldwide delivery).